Newcastle Roofing Professionals
0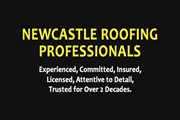 Experienced, Committed, Insured, Attentive to Detail, Trusted for over three decades

Newcastle Roofing Professionals provide licensed and insured roofing tradesmen that have been trusted to deliver outstanding products, services and most importantly workmanship for over three decades.
Our teams are composed of roofing industry experts, specializing in roof repair, roof restorations, guttering and more. We service all common roof designs including terracotta and cement tile, colorbond and other metal roof surfaces.

ABN : 17609935177

Year of Establishment : 2014
Image and Video Gallery
Opening hours
Monday

8:30am - 5:00pm

Tuesday

8:30am - 5:00pm

Wednesday

8:30am - 5:00pm

Thursday

8:30am - 5:00pm

Friday

8:30am - 5:00pm

Saturday

8:30am - 5:00pm

Sunday

Contact us
---
Reviews
Total of
0

reviews

Be the first to leave a review!
---
Leave a review