Complete Blinds and Awnings
5.0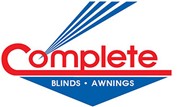 Complete Blinds & Awnings has been providing high quality window treatments and
furnishings to Toowoomba and the Darling Downs region since 1994. We service an area of up to 150km radius from Toowoomba and also supply to builders, contractors and the general public.
Complete Blinds supply and install all internal blinds (Roller, Vertical, Panel Glides, Duo Blinds & specialty blinds), Internal Plantation Shutters, External Shutters and Privacy Screens, fixed and adjustable Fabric and Aluminium Awnings and Security Screens.

ABN : 90998599852

Year of Establishment : 1994
Image and Video Gallery
Opening hours
Monday

8.30-5.00

Tuesday

8.30-5.00

Wednesday

8.30-5.00

Thursday

8.30-5.00

Friday

8.30-5.00

Saturday

Contact us

Sunday

Contact us
---
Reviews
Total of
5

reviews

November 14, 2018 02:24 PM
I am very happy with the blinds and the boys were courteous and professional, something we don't often see these days
- Debra E.

November 14, 2018 02:23 PM
We are happy with the job that you have done for us, and you offered really good customer service. Our house is much warmer … and darker! I think it will really be great in summer, in particular. Thank you again.
- Barbara A., Warwick

November 14, 2018 02:22 PM
A totally professional job. Just what I was hoping for!
- Faye C. - Shutters

November 14, 2018 02:22 PM
The Stafford Awning you installed was the perfect answer to the need to protect the walkway from sun and rain. It looks smart and your installation was carried out efficiently. Thank you.
- Athena Motel

November 14, 2018 02:20 PM
Just the touch we were looking for. Excellent service throughout.
- Patricia C.
---
Leave a review